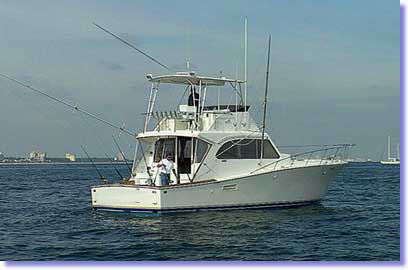 Custom 46 Foot Sportfisherman
"Fort Lauderdale's Full Time Fishing Boat"
This boat is setup to take up to 6 passengers offshore to battle the big game in comfort. Fully equipped with top of the line tackle, this is one of Fort Lauderdale's cleanest and best maintained, year-round charter boat you will find. This twin diesel, fiberglass vessel is equipped with outriggers, a live bait well and sonar/fish finder electronics. It's crew is made up of professional, polite, second generation fishermen that know the waters of South Florida. With over 30 years experience fishing out of Fort Lauderdale, your crew knows where to go and what to do! This is a 7 day a week, full-time, professional operation.
We can also split up your trip and show you some of the sights that can only be seen while touring the waters in South Florida.
Outings range from 4, 6 or 8 hours and begin around 7 or 8 a.m. each day. Afternoon outings are also available. Tackle provided ranges from 20 pound spinning outfits to 80 pound conventional gear. The boat is also equipped with a fighting chair to help tame the big ones. Our large cabin has air conditioning, bathrooms and a galley to keep you in the comfort zone. Experience isn't needed since the crew is there to help and instruct you on landing that trophy! This is a great way to entertain your business partner, take the family out for some quality time or just get out with your friends to bend a rod. Since you are very close to the deep water and the fishing grounds, even a 4 hour trip gives you plenty of time to catch the fish of a lifetime.
Some of the species we target are Sailfish, Kingfish, Bonita, Dolphin, Wahoo, Barracuda and Shark. We release all fish that you don't need for dinner that night. If you are looking for a trophy mount to stuff and put on the wall we can get you a replica of your catch. Since all saltwater mounted fish are made from molds with modern taxidermy, we see no need to kill a fish that won't be used. Hopefully you can catch it again on another trip, and it will be even bigger! We deal with the largest, most experienced taxidermist around and we offer the best prices. If you are looking for a meal that night let us know. We will clean your catch at the end of the trip and bag it for you to take home. You never know what will jump on the baits each day since the fish have fins and there are no fences. Our crew is made from second generation charter fishing members who know the way around the waters of South Florida and beyond.
Rates:
4 hour trips : $500
6 hour trips : $700
8 hour trips : $900
for a maximum of 6 passengers.
This is the total cost for the boat, not for each person.
Included: fuel, crew, rigged baits and all tackle.
Not included: food, drink, live bait and gratuities.
---
Call (954) 423-8700
Email: info@A1ASportfishing.com
A1A Sportfishing.com

Fort lauderdale florida fishing trips and information on deep sea charters from boca raton miami beach pompano beach lighthouse point boca raton fish boats south florida fishing photographs pictures and images of fla.